Hi DJ
Herewith some more information on the grey T57S roadster, a very good replica executed by Eric Koux, of which more anon. The original car was a T57S, chassis number 57385, with a roadster body designed by Jean Bugatti which at first had fully enclosed front wheels (photos 1 & 2) then changed a short time later to the more elegant front wings as shown in photos 3 & 4. Although Andre Derain, a painter, was not the first owner this car has become known, retrospectively, as the Derain Roadster.
In 1953 this car was re-bodied by Ghia (photo 5) and then it disappeared, although rumours persist that it survives somewhere in France.
Photos 6, 7 & 8 are of Eric Koux's inspired recreation. Already well known for his Atlantic recreations, this one's body was built by Rod Jolly in Britain and carries the number BC 116. All photos courtesy of Wiki.
Fabulous looking car.
Kind Regards
Johan Buchner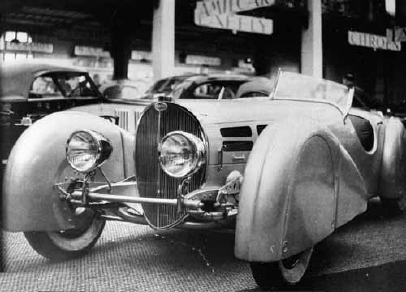 (1)